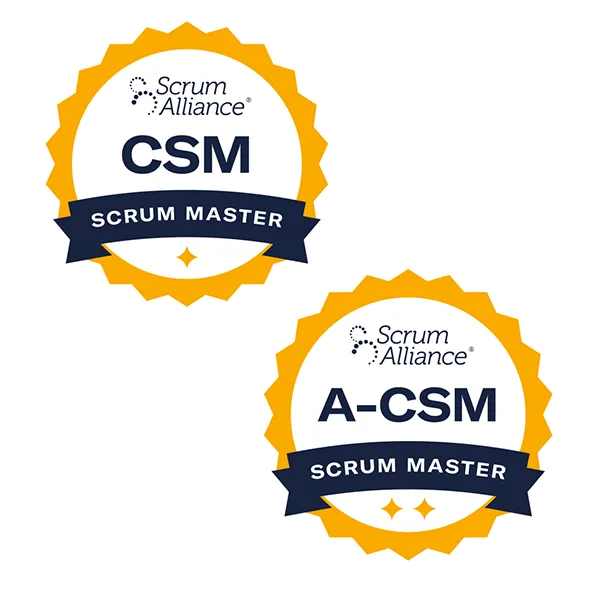 Doble Scrum Mastering Certification
The ultimate workshop to develop your professional profile as a Certified Scrum Master. Endorsed by Scrum Alliance.
Four days of pure practice to learn how to lead agile teams, facilitate communication, internal and stakeholder collaboration, visualize progress, and increase the value delivered by the team through short cycles of work and early feedback. Online program endorsed by Scrum Alliance.
2, 3, 19 y 20 de Octubre
Virtual

in Spanish
CSM + Advanced CSM Program
We will cover:

How the framework works and how it differs from traditional project management
The Team, Product Owner, and Developers
Scrum Master: responsibilities, servant leadership, and impediment removal
Sprints (central pieces of the framework)
Sprint Planning, Daily Scrum, Sprint Review, and Sprint Retrospective
Artifacts: Product Backlog, Sprint Backlog, and Increment. Purposes and relationships
Commitments: Product Goal, Sprint Goal, and Definition of Done (DoD)
Through a series of exercises, you will be able to identify different levels of complexity in product creation and the required approaches for each of them.

In this module, you will learn:
The underlying reasons for using this framework in complexity management (and the difference between complex and complicated problems)
When does and doesn't make sense to use it
How to leverage this agile framework to succeed in complex contexts, thanks to the fundamental pillars: transparency, inspection, and adaptation.
We will show you in-depth the key aspects of Evolutionary and Incremental Development of products.

In this module:
You will experience one of the biggest mindset changes in the transition from traditional product development to agile development
You will understand the strategy used for evolutionary product construction by continuously validating assumptions
You will participate in dynamics to understand this paradigm shift and how it impacts the Scrum Master's perspective
In this module, we will identify the responsibilities, mindset, and anti-patterns within the team.

By the end of this section, you will have learned:
What is expected of each team member
The most important aspects you should care of maintain healthy practices
The self-management and cross-funcional characteristics of agile teams
What you can do (or avoid) from your position to promote Agility and Scrum.
With this module, you will see that transitioning from a traditional approach to an Agile one requires a significant shift in mindset in terms of estimation and performance measurement.

During this section:
You will put into practice the estimation of items in the Product Backlog
You will understand how to carry out performance measurement from an Agile perspective
You will be able to differentiate between outcome-based and output-based metrics.
In this final stage, you will participate in an integrative exercise that will allow you to put into practice what you have learned.

During this exercise, we will build a digital product iteratively, where:
You will establish the Product Goal
You will determine the Objective of each Sprint
You will perform Sprint planning
You will participate in the Sprint Review and obtain feedback to evolve the product
You will carry out a series of Retrospectives to improve the development process
At the same time, you will understand the most critical details of Scrum Events
You will learn what to consider when facilitating these events, for example: purposes, participants, typical agendas, the relationship with stakeholders, anti-patterns, and common problems.
You will be able to put into perspective the historical evolution of Agility and understand it beyond Scrum. You will be able to identify and communicate, as an experienced Scrum Master, how this mindset gave rise to different frameworks that are now considered practically complementary.
You will learn why Scrum is designed as you know it. The purpose behind the existence of each artifact and each event regarding empirical process control. You will be able to identify not only the most typical anti-patterns, but also incorporate concepts that allow you to identify those not so well-known.
You will learn how to facilitate any Scrum meeting and add some spice to those meetings so that they are not boring or uncontrolled. Scrum Teams will be grateful to you for efficiently facilitating their meetings.
You will discover the secret behind Coaching. You will also learn training techniques and be able to differentiate facilitation from coaching, and training, knowing when to use each discipline as an advanced CSM.
You will learn the typical characteristics of high-performance teams, an actionable model for their development, and the different stages they usually go through, and how you should act in each of them. We will explore different minimum technical excellence practices that you must know to perform successfully as a Scrum Master. From this, you will know how to foster self-management in the Scrum Team and how to provide coaching to maximize their potential and effectiveness as a team.
You will learn how to support Product Owners in their effective performance of their role. You will know how to involve them in the refinement of Product Backlogs and the creation of a compelling vision. We will also discuss the implications of the latest modifications to the Scrum Guide with respect to the Product Goal and Sprint Goal.
You will develop a systemic perspective of Organizational Agility. You will know how to analyze organizational dynamics with respect to product construction and the adaptability level of the system. As an advanced Scrum Master, you will be able to identify patterns of local optimization that prevent an organization from achieving higher levels of agility.
You will become aware of the aspects that make up servant leadership and conflict resolution. You will put all the topics learned into perspective and will be able to evaluate your level of expertise in each of them, charting a future personal development plan that shows you the path towards continuous professional improvement.
What will you learn?
Values and principles, The Team, iterative and incremental development with Sprints, Sprint Backlog, Product Backlog, and PBIs, refinement, acceptance criteria, and more.
The scope of the Scrum Master's role and the four disciplines of their daily work.
The differences between Agile and traditional leadership to better embrace changes and lead through service.
Relative Estimation of PBIs, evolutionary planning and outcome-based metrics.
Agile facilitation, training, and coaching techniques that expand the action of Scrum Masters.
How to create better Definitions of Done (DoD) increasing the quality and transparency of the agile delivery process.
You will know the basics of agility at scale and the reasons why an organization might decide not to scale.
You will identify organizational impediments to applying Scrum and decide the best way to intervene systemically as an advanced Scrum Master.
What will your get when registering?
Welcome Kit + Campus
With videos that you can watch immediately 💻 and materials that you can consult without time limit.
Four Live Online Days
A four-day course, full of Scrum Mastering techniques and practices.
3 Digital Books
'Scrum y Algo Más', 'Facilitador de Equipos Ágiles', and 'Agile Coach Profesional' books.
Course Recording
Access to the course recording video.

✅ Yes, you read that right: we record the course and make it available for you to watch as many times as you like!
Bonus: Certified Scrum Master Exam Prep.
An additional course with recommended readings and simulations for you to practice 📝 before taking the CSM exam.
International Recognition
The most recognized SM credential in the industry 🥇 (after passing the corresponding knowledge test).
32 Miles
Miles that you can redeem for discounts on other courses from our company.
PDUs
PDUs to credit in your Project Management Institut profile and keep your certifications valid.
About the Instructor
Martin Alaimo
A dedicated consultant in business agility and digital product creation.
He's been working with agility since 2004 and guiding organizations since 2009. He's supported over 6,000 professionals in learning and developing skills for product creation and adopting cutting-edge methods.
In 2022, he founded Disruption Factory, an entity that assesses and certifies high-standard skills supported by decision-making processes.
Martin's approach is practical and tailored to the situation, while his teaching style is immersive, offering novel hands-on experiences that facilitate rapid learning.
He has published 5 books and spoken at over 30 conferences across Latin America and the United States.
Upon finalizing this program:
You will have received experiential training and solid conceptual understanding, working as a team and putting each learning into practice.
You will understand Agile values and principles, the responsibilities of Scrum Team members, and how self-organizing and cross-functional teams work.
You will learn about personal experiences regarding the functioning of this framework.
You will know the reason behind each artifact and event , so that when facilitating meetings and accompanying teams, you can help identify opportunities for improvement for the next Sprint.
You will have a high level of understanding of transparency, inspection, and adaptation and the role they play in Scrum efficiency, as well as the challenges that can arise within the team and with stakeholders.
You will be able to recognize whether the team has a healthy Product Backlog or not, in order to deliver maximum value.
You will learn the history of Agility. We will go from the historical evolution of Scrum and Agile, and see how their values and principles are reflected in Scrum and other approaches such as XP and Kanban.
You will be able to identify and describe the different patterns of empirical process control behind Scrum and understand how an advanced CSM acts in typical situations where framework efficiency is degraded.
You will have an awareness of the foundations of Facilitation and put into practice the techniques that an Advanced CSM should master to make team meetings as productive as possible, starting the path to Agile Facilitator.
You will clearly understand what coaching and agile coaching are and how they differ from training, mentoring, and facilitation (instead of trying to understand these differences) to bring greater clarity to the different facets of the Scrum Master role.
You will learn the fundamental aspects of Team Dynamics, what lies behind their ability to self-organize, and develop skills to bring them to their high-performance point thanks to the new skills of the Advanced Scrum Master.
You will learn technical practices that contribute to coordination in contexts of multiple teams and Agility at Scale.
You will be an Advanced CSM who will be able to identify the characteristics of Servant Leadership and how to approach team and organizational problems from this leadership perspective.
You will incorporate key elements to facilitate conversations that will allow you to move from a Vision to a Product Backlog and the necessary techniques to facilitate effective Backlog Refinements.
2, 3, 19 y 20 de Octubre
Virtual

in Spanish
Our participants work at...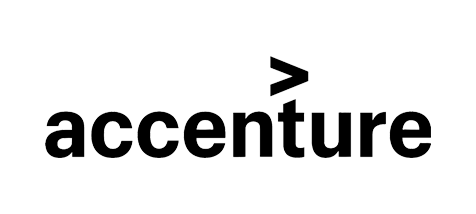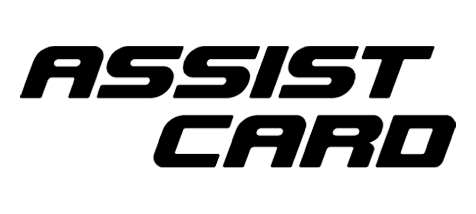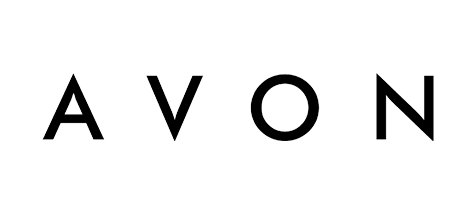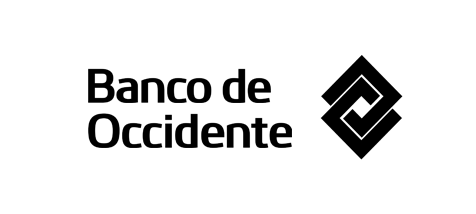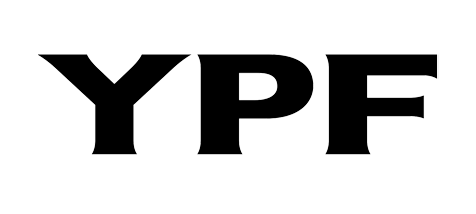 Popular questions
No, there are no requirements or previous knowledge needed. In fact, it is the best starting point because it ensures high-quality standards in your learning.
Yes. Upon completion of the first two days of the program and taking into account Successful Participation criteria, the trainer will submit the candidate's details to Scrum Alliance. Successful participation means being 100% present and adding value to other participants in the same learning path.
Yes. After successfully participating in the course, you will receive a welcome email. You will need to take the exam before days 3 and 4 of the program when the advanced certification training begins.
Yes. You need to have the CSM certification issued by Scrum Alliance (having passed the exam successfully) and hold at least 12 months of experience working as a Scrum Master in the last five years.
Because it is the only dual certification program that offers you robust learning to benefit your teams and promote change, the possibility of expanding your professional community, the opportunity to create new career opportunities, and to continue advancing your career goals.
Scrum Alliance. Founded in 2001, it is the most experienced professional organization in the Agile community internationally. Its accreditations are widely recognized by companies when selecting candidates with Scrum competencies.

Because it is not just a regular course. It is a 100% participatory experience that will guide you to find the answers and tricks to grow within this innovative framework, influence teams, and your organization.
To all those who:

• Want to become Scrum Masters, discover this framework or frame their knowledge
• Just entered Agile teams and need to become familiar with its practices
• Work in changing environments
• Want to increase the value of the delivered product and be more innovative
• Want to improve productivity at a sustainable pace and reduce rework
• Seek to minimize risks in unstable contexts
• Want to increase customer satisfaction and/or team well-being.
The 'buy' button will walk you through the process. If you wish to make a bank transfer, reach us via hello@alaimolabs.com
Reach us via hello@alaimolabs.com so we can help :)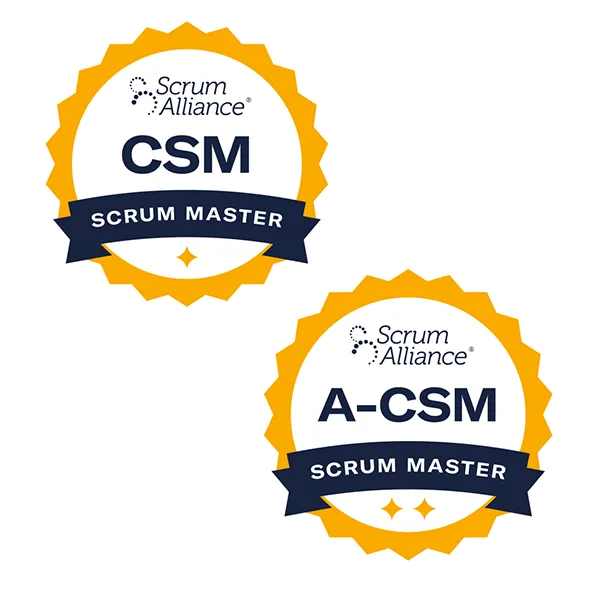 Looking for a different date?
Join the Waitlist Now
While you wait for a new date to be published, get our news and updates.